GROWING A BETTER WORLD
Growing food right where it's going to be eaten is good for your health, and good for the environment.
Our Growtrays are made from bamboo fibres which are eco-friendly, BPA free and biodegradable.  Our seedmats are made in New Zealand and are fully compostable.
discover more
TINY BUT MIGHTY
Microgreens are the seedlings of leafy greens, vegetables and herbs. They can have up to 40 times more nutrients than their mature counterparts, and the vivid colours, intense flavours and array of textures can bring any dish to life.
A small portion of microgreens can provide you and your family with a sufficient source of essential nutrients and vitamins! 
GET STARTED
GROWING MADE EASY
Grow fresh and healthy microgreens in under 2 weeks without getting your hands dirty. We've done all the hard work so you don't have to!
The specially designed dome balances humidity & ventilation during germination while the honeycomb grills provide optimal growing support for healthy roots.
Our patented seedmats have all the goodness the seeds need to grow. Just add water - it's that easy!
learn more
DESIGNED FOR YOUR HOME
Grow microgreens like never before in our sleek and stylish micropod that is designed to sit small and compact in a warm sunny spot.
Choose from a variety of colours that will be sure to complement any home.
shop now
SIMPLE . FRESH . REWARDING
Optimally spaced seeds
All natural wood and coco fibres
Embedded nutrients for tastier & more nutritious greens
Biodegradable and compostable
Let customers speak for us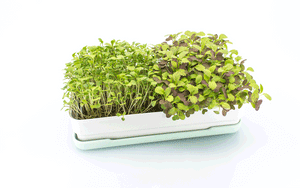 STARTER KIT
Sale price Price $59.00 NZD Regular price